Monday, March 4, 1991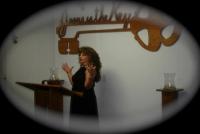 The Word of the Lord to the Church through
Rev. Janna Hogan 3.4.1991
"Wait before Me my daughter...don't be in a rush...for haste is not a friend of Mine
Very carefully and with all consideration have I purposed forth all I have done...for the time of breaking forth seems to the church as accidental circumstance producing opportunity to go forth...but in truth the explosion of My purposes into being is not so…condensed milk is the nourishment of the past…the time of baking is not to be considered the finished work of refinement...for the product of My hand produces the product of a people...perfect before Me
I am able to achieve this My child
I have shown you of many things and places...through the eye of your own understanding…you have measured all you saw
Where therefore is the trust and how is your faith in your working
Have I not brought you out of your world of works into My world of faith
Out of a manger there was a breaking forth of My Word through My Son...He is and was and will always be My Son
Through Him is all things…yet He examined not the place of His birth nor the size of His bed...for all things had been in Us before the Word was sent forth
Be not condemned… for I would that you not see and grieve...but that you…see and understand
As you are raised… so I shall also lower your thought of self...for pride is a leprous disease and spreads quickly
You shall do more than you have seen that will please your Father...
I shall allow you to rise a hero in the land...for Ii will lead through you a great body of people and you will cross over into all I purpose with them
I will cause favor to rest upon your shoulders…and wisdom shall pour
down over your head and I shall surpass your expectations...not for the seekers but for you my beloved friend...for you have given thought… to your God amidst the distresses…
In your love you have sought to comfort Me
You have defended My Word and have held fast to all you know
I will be there...lantern of life
I will be there… have I not already told you...where ever you put your foot I will give it to you
Give the command with eyes ahead...look not down at the ground or at your feet ...look no more at resources or your stature…be no more reminded of anything but...the Word you have heard...the face… you have seen...the love you have felt...the power you have received and…face all things with joy …thanksgiving and in peace… for surely the time has come for all I have said
Go therefore for the battle is on and the victory is sure
Go to the rooms… and the halls… the stadiums...go to the cities and to the countries
Declare the Word… whom you have received and He shall be there with you always".
(my response)
Blessed be my God and my Father, who has sent forth this servant into His will in His love. Blessed be my God my Father who is the Lord Jehova God of all.