February 6, 2008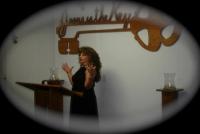 The Word of the Lord to and Through Rev. Janna Hogan February 6. 2008
Released at Jesus Is The Key Church February 10, 2008
"Sit now beside Me My child…for even now there are those who are all grown up…who have in times past laid aside their youth…they are once again returning to Me…as a child
There is a need for My strong arms around you…for My listening ear to hear your voice in childlike helplessness
Do not be afraid of this hour…and the measures that I am taking you through…to bring about a humbling under My mighty hand and under My care
I have a growth for you to come into…it is not like what you have known…trust Me…for…what I am about to do for you My people is beyond where you have been
My plan is developing…I am developing you
I will and I have taken over your growth and development when My set times for My will…can wait no more
The speed of what is ahead is drastic…be not concerned …I am in it and will be with you as you are forged ahead
Count on Me…saith the Lord to My children
Count on Me... Saith the Lord…to you My people
You will look and see…I have rapidly developed thee…saith the Lord"
Commentaries by Rev. Hogan
I heard in the word of a new level of maturity, for the mature that would come as a child once again to the Lord, and in our coming back to Him in this way, that He would release a new growth, a development of maturity that we've not known.
I saw a developing strategy to remove encumbrances for us at this time, being released that requires little to no personal involvement apart from faith.
I saw how humility at any point of our development in the Lord is key to our maturity.
He said: My plan is developing…I am developing you
We are His plan, the Lord is at work in the lives of all who will welcome His involvement, and respond in faith to His direction and instruction.
An invitation came to ears that can hear, to come into what the Lord is doing now on our behalf and according to His set times.
Prayerfully consider this invitation before the Lord, if there is a witness to you that this is from Him, then respond to Him in faith and you'll not be disappointed.