The Vision That Birthed
"The Christian Christmas Procession",
"The Bible On Parade."
In December of 1989 while I was on route from Palm Bay, I was caught in a traffic jam as a result of a Christmas Parade. I recall watching all the people, floats and merriment.
Things seemed all right at a first glance, but as the parade went by, my attention was brought to the absence of the "Real Reason for The Season."
Many groups passed by, nowhere to be found was a mention of The Lord Jesus Christ. Deep within my spirit, I was grieved. With tears of frustration and anger, I watched yet another piece of ground stolen from the church.
It seemed to go on forever, I remember saying out loud to those that were in the car with me, "why don't the Christians do something about it?", and as I did, the conviction of the Holy Spirit came to me, I was one of those that had done nothing. I began to repent for our sin to the Lord Jesus for not taking a stand. Wiping my tears and thoughts away we drove on home, shelving this "ouchee" in prayer was all I could do. A few weeks later during a time of fasting and intercession, I saw a vision.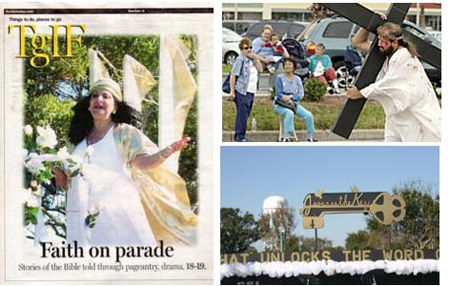 "In that vision...I saw a great big beautiful gold key...it was massive in size…and it was glistening... and it began to roll and move out of front view...I saw behind it what seemed to be...a huge brown black door...and it was coming into the place where the key was...and as it came closer...I saw it wasn't a door...it was a bible...and the key was now poised to the bible...so as to say...at a glance... Jesus Is The Key...That Unlocks The Word Of God... and immediately after seeing that...behind it...I saw Genesis...Exodus and Leviticus...and every book of the bible seemed to flip up and open before my eyes...and I saw the people were dressed as in biblical times...and they seemed to be fitting in the book that they were with...(as if the great cloud of witnesses became visible) and there was singing and they had joy, ...and there was music and dancing and everyone seemed so electrified, and I saw people standing and sitting on either side as this peculiar weaving...of one great number of people passed by. They watched in awe...some looked happy...others were crying...I remember it looked like they had seen for the first time...and what they saw...broke them. I saw at the end of the great number of people that those that gathered to see and hear began to get up and follow the crowd...and the line kept going and going...for so many joined in. The vision closed.
In 1990, this vision of unity, was birthed, based on John 17:21 That they all may be one; as thou, Father, art in me, and I in thee, that they also may be one in us: that the world may believe that thou hast sent me."
In the first year 45 Churches/Ministries across denominational, racial and gender separations came together and reconciliation began to manifest. Baptist, Catholic, Methodist, Presbyterian, Pentecostal, Charismatic, Denominational and Non-Denominational Churches, joined together to "Profess…Thru Procession Unity In Jesus Christ To Our Community."
Our common goal for this effort is found in: John 12:32 "And I, if I be lifted up from the earth, will draw all men unto me."
Believers are invited to participate. For more information Click here