Contributions For: "The Bible On Parade"
The not so politically correct but Biblically correct Christmas Parade invites you to be part of the outworking of this vision of unity that puts Christ back into Christmas. Our campaign is to proclaim the greatest story ever lived, that still needs to be told.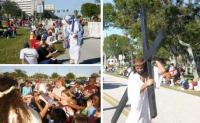 "The Bible On Parade" also known as "The Christian Christmas Procession" Is A United Gift Of Love From The Participating Church.
Expenses include gifts for the children, Bibles, Christian coloring books, puzzles, food and the costs to stage the event. Nothing is sold; it is a gift from Him through His body to all who come.
You can contribute a financial seed to this work in the following ways.
To donate online using a credit card with PayPal:


Or you can mail checks payable to:


Jesus Is The Key


(designated to) "The Bible On Parade"
Mailing address:
Jesus Is The Key
P.O. Box 372672
Satellite Beach, Florida 32937
Email:
thebibleonparade@jitk.org